Karen Turner
Owner and Transformation Sorcerer
Hey there, it's Karen Turner. I'm the Owner and Transformation Sorcerer at Brain Dance Designs and I've been making magical things with bits and bytes practically my entire life. As a baby programmer, my colleagues would laugh at the sight of me sitting at my desk coding away having forgotten to take off my coat or boots. Many years (and many hats) later, I am overjoyed to be able to go back to my roots and CODE CODE CODE, ALL DAY ALL DAY!!
I have experience across multiple industries working with some of the world's largest companies as well as small and medium businesses (SMBs) and startups. I have an insatiable thirst for knowledge, know the words to practically every song I've ever heard, and my favorite question is 'What if?' My superpower is taking complex concepts and explaining them in a way that just makes sense.
I have a bachelor's degree in computer science, an MBA in finance and international business and a love of all things shiny, new and made from electricity. My outside activities include competitive ballroom dancing, amassing stringed instruments and pet therapy work.
Of interest right now: React, Nextjs, Amazon Web Services, Vercel and writing low level components to avoid using third party libraries. I also love setting up small business infrastructure, including LLCs, web and social media presence, financials, CRM and CMS systems and tying it all together so it just works.
Learn things, make stuff, help people!
Marlowe Turner Loo
Chief Happiness Officer
Marlowe is the Chief Happiness Officer at Brain Dance Designs. He and Karen are also a registered pet therapy team with The Alliance of Therapy Dogs and are volunteer employees at CorsoCare and Community Hospital, Grand Junction.
Community service is very important to us at Brain Dance Designs and we love having the opportunity to spread doggie joy by visiting hospice patients and others in the course of our therapy dog work.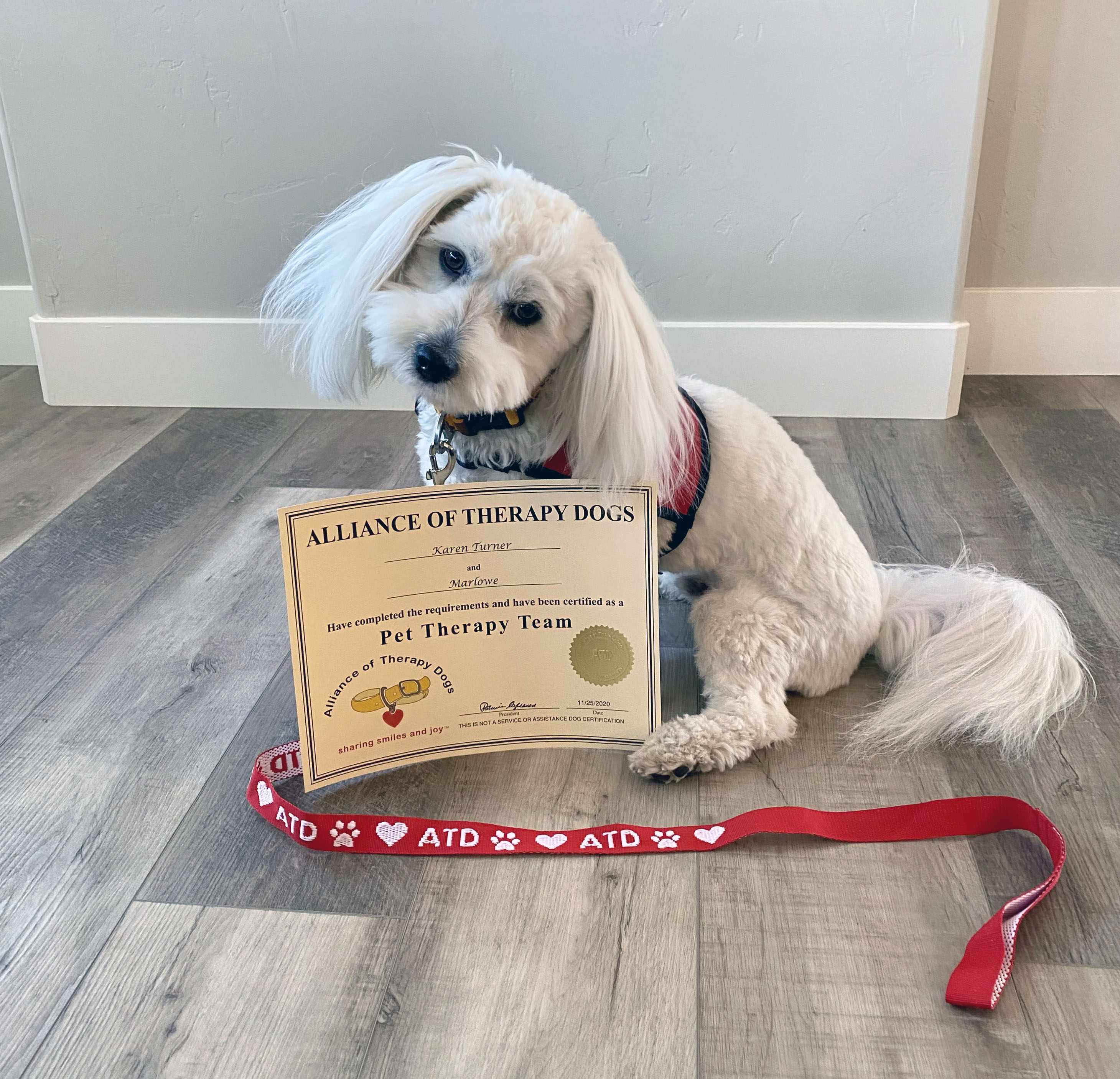 Our pet therapy work is 100% volunteer and we are always open to new opportunities.
Run, Run, LEAP!